News From The Mountain
Oak Mountain Academy Juniors Participate in Governor's Honors Program
September 04, 2019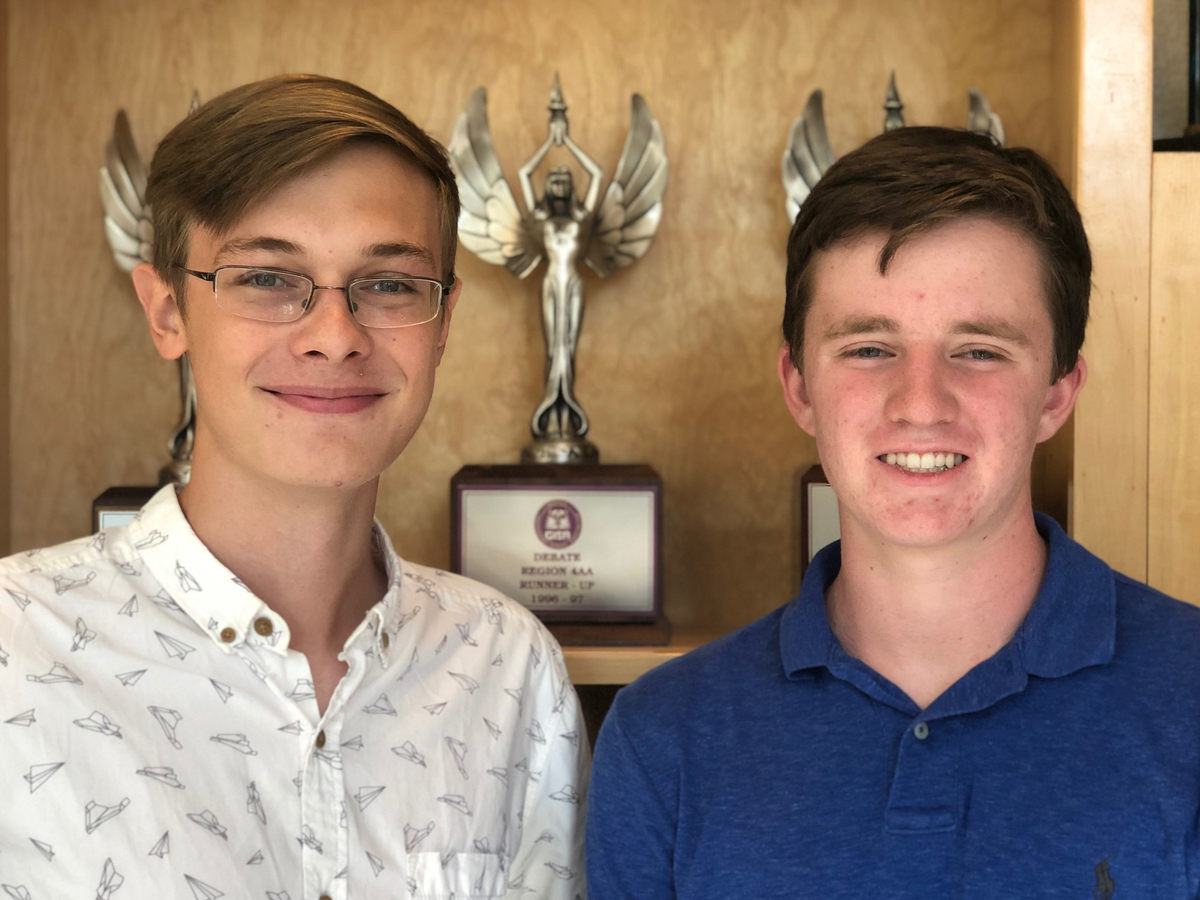 While many students spent their summer at the beach or by a pool, Oak Mountain Academy (OMA) juniors Samuel Erben and Scott Powers spent much of their break in the Georgia Governor's Honors Program.
According to their website, the Governor's Honors Program is "a residential summer program for gifted and talented high school students who will be rising juniors and seniors during the program." Students from all over Georgia are selected in a variety of areas of study ranging from physics and engineering to dance, theater and foreign language.
For four weeks, Samuel and Scott lived on campus at Berry College in Rome, Ga. with hundreds of other program participants. Their typical day was akin to that of a college student. They woke up in their dorm, had breakfast on their own and attended their major class. In the afternoon, they attended classes on their minor and then were given free time to study or participate in one of the many activities planned for the participants. The sense of community was something both the students really enjoyed about the program. Scott said the experience gave him insight into what college will be like and how important it is to connect with people who are different from you.
Students in the program are encouraged to get out of their comfort zones by choosing a roommate outside of their major and choosing a minor that is unrelated to their area of interest. "In other words," Samuel explained, "they want you to minor in something that you're bad at." Samuel roomed with a tuba player and chose to minor in game design. Scott chose math as his minor and roomed with a social studies major from Columbus, Ga.
Both Samuel and Scott agreed the most difficult part of the program was the final project. Their groups were given the freedom to decide how to approach their projects, what to research, and how to delegate their work. Scott said Oak Mountain Academy had prepared him for the difficult project because he knew how to manage his time and delegate group work from his classes at the Academy. Still, his group worked until 11 p.m. some nights to be sure they would finish the assignment on time. Samuel said he drew on his self-motivation that he has gained at the Academy to get through the difficult final project. "Because our community at Oak Mountain Academy is so small, everything you do is seen by other people which motivates you to work hard. That self- motivation really helped me a lot in the final project," Samuel reflected.
"Two of our students being selected to such a prestigious and competitive program is a testament to the excellent preparation our teachers provide our students at Oak Mountain Academy," said Patrick J. Yuran, Headmaster. "We are incredibly proud of Scott and Samuel for representing OMA in the Governor's Honors Program."
While Samuel and Scott may not have had the most relaxing summer, they are both thankful for the experience which they said helped them grow and made them even more excited about starting college in two years.