About Athletics
My name is Steven Gillispie - I am quite excited to be joining the staff of Oak Mountain Academy! The record of academic and athletic success on The Mountain was extremely intriguing to me, and through the interview process it became evident that this is a special place with an undeniable family atmosphere. I have been serving as the Assistant Athletic Director for Operations and Events at Jacksonville State University for the past six years. While at JSU, I was responsible for the overall management of all JSU athletic events, directing the Alabama High School Activities Association Jacksonville Basketball Regional tournaments and serving as JSU Staff Sponsor for the Fellowship of Christian Athletes. I look forward to working with Patrick Yuran, his leadership team, and all of the faculty and staff to continue to grow our institution and move it forward.
Coach Gillispie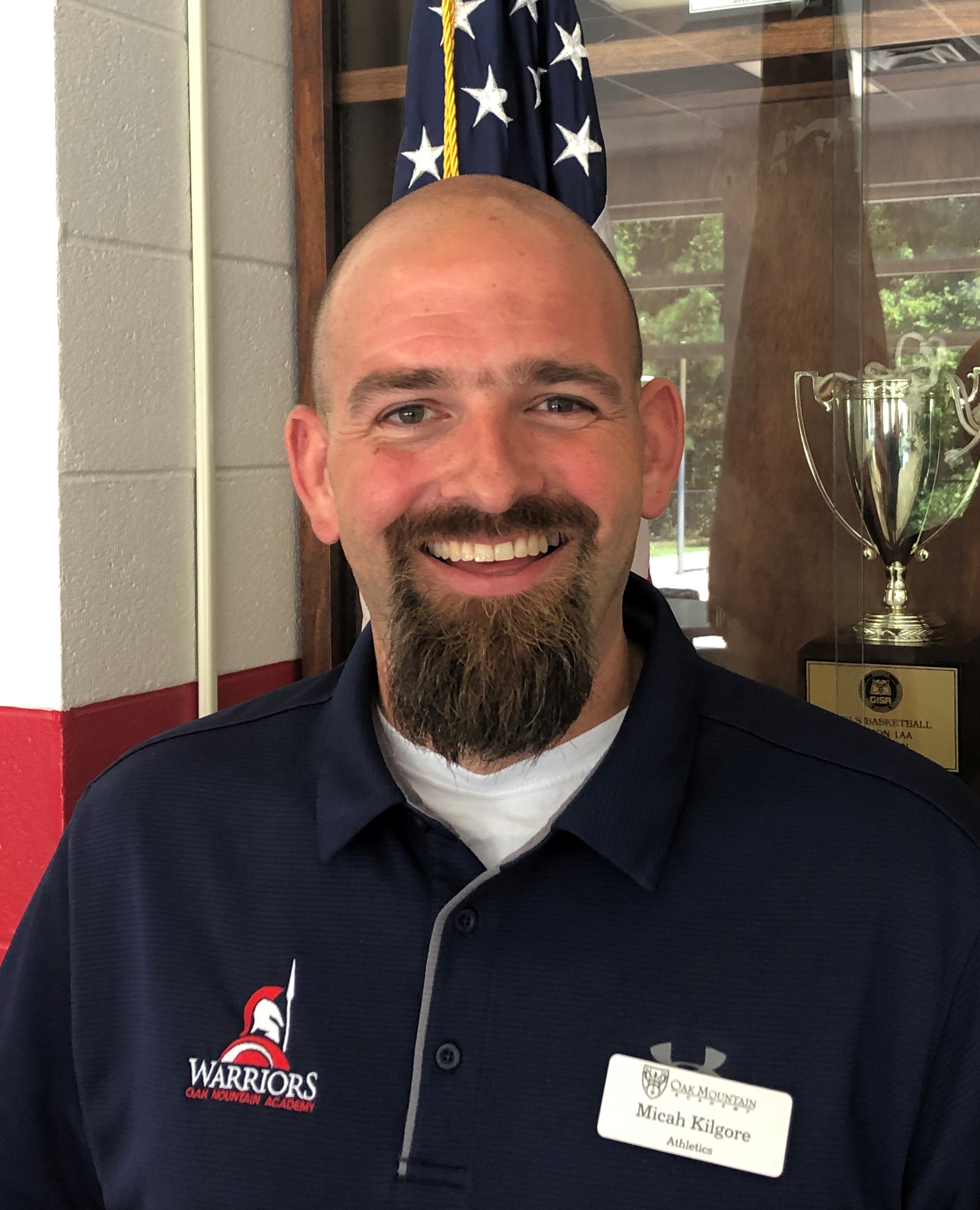 My name is Micah Kilgore and this is my third year On the Mountain as a teacher and athletic administrator and 4th year as a coach. My love for athletics and encouraging students continues after many years of coaching and working in full-time ministry. I have coached Cross Country, Tennis, Soccer, and Golf while at OMA. This year, I am thrilled to be the Head Boys Basketball Coach! I am married to Mrs. Katie Kilgore, the Director of Admissions and Marketing at OMA and have 3 children, Caz, a 10th grader at OMA, Cooper, a 3rd grader at OMA, and Maggie, a PreK-4 student at OMA. Experiencing the family environment as a parent and spouse of an employee is what drew me to be part of the OMA family as a faculty member. I love that everyone is encouraged to participate in athletics and co-curricular activities, even if it means trying something they've never done before. Trying new things in athletics and in life can lead us to places we've never even allowed ourselves to dream about. Go Warriors!"
Coach Kilgore
2020-2021 Coaching Staff
Thank you to these AMAZING Coaches!
Varsity Soccer - Tim Cochran - 2020 State Runner-Up
Varsity Volleyball - Jessie Fuller, Dr. Brett Wynn - 2020 State Champions, 2021 State Champions
Varsity Cross Country - Micah Kilgore, Terrell Barkley - 2020 Boys Region Champions
Varsity Boys Basketball - Micah Kilgore, Deion Sims - 2021 State Champions
Varsity Swimming - Jarod Hunte
Varsity Tennis - Claire Mowling - 2021 Singles Boys State Champion (Dylan Sims), 2021 Doubles Girls State Champions (Abbey Penley and Kenize Reid)
Varsity Girls Soccer - Tim Cochran
Varsity Golf - Micah Kilgore
Middle School Volleyball - Chambray Johnson
Middle School Cross Country - Micah Kilgore, Terrell Barkley - 2020 State Runner-Up
Middle School Girls Basketball - Chambray Johnson
Middle School Boys Basketball - Deion Sims
Middle School Swimming - Jarod Hunte, 2021 Boys Relay State Champions
Middle School Tennis - Claire Mowling